UPDATED: 22nd June 2022
As well as PLATINUM's hectic schedule for corporate and private clients, they also perform at a number of public events throughout the year. Watch this space for details!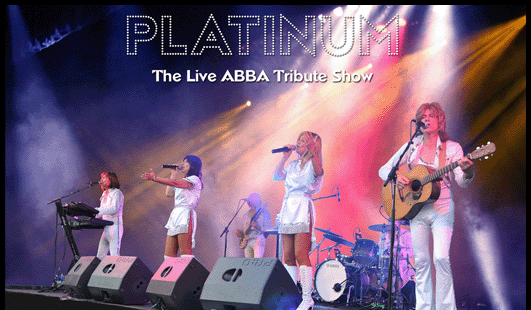 LOOK OUT FOR UPCOMING THEATRE SHOWS OR FESTIVALS!
24th July 2022 - Marvellous Festivals, Dinton Pastures
21st August 2022 - The Princess Theatre, Hunstanton
3rd December 2022 - Dorking Halls, Dorking
7th & 13th December 2022 - Wilde Theatre, South Hill Park, Bracknell
8th December 2022 - Tivoli Theatre, Wimborne

MARVELLOUS FESTIVAL, Dinton Pastures
Sunday 24th July 2022
PLATINUM ARE BACK AT MARVELLOUS!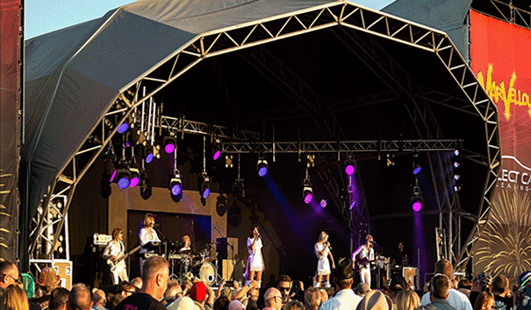 Photo Credit: Thanks to Jonathon Cuff
PLATINUM are delighted to be back at the wonderful Marvellous Festival and will be performing on the Sunday of this weekend event. So, come and see us at 18:30 and enjoy the rest of their line-up of great tribute acts before and after PLATINUM.
Tickets are now on sale.
THE PRINCESS THEATRE, Hunstanton
Sunday 21st August 2022
PLATINUM took their show to The Princess Theatre in Hunstanton for the first time in 2021 and are now back this summer.
"…A must for all die-hard Abba fans!"

"…what a pleasure to hear the ABBA sound played live and so faithfully followed, without the usual tribute band recorded sound."
On stage 7.30pm - Tickets available online via their website or from the Box Office on 01485 532252.

PLATINUM TICKETS ON SALE FOR THEIR CHRISTMAS 2022 SHOWS
AT BRACKNELL, DORKING, & WIMBORNE!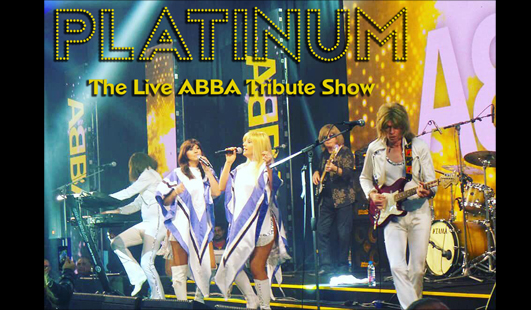 Come to one of PLATINUM's Shows at Christmas 2022 for a Sparkling Night of ABBA, Glam, Glitz & Fun!
Dorking Halls on Saturday 3rd Dec
Wilde Theatre, Bracknell has two dates again! Wednesday 7th Dec and Tuesday 13th Dec
Tivoli Theatre, Wimborne on Thursday 8th Dec
Like our Facebook Page & Follow us to see these and more Events!
Tickets are now on sale for all the above events.

DORKING HALLS
Saturday 3rd December 2022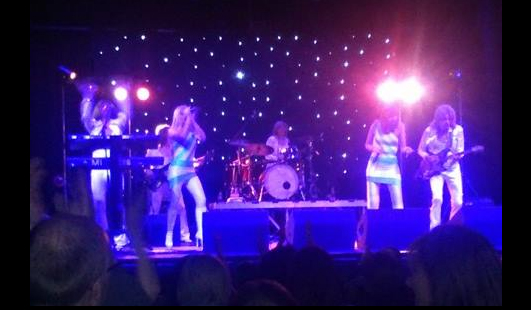 The perfect venue to put on your flares, platforms & wigs and come along for a great, fun night of dancing to ABBA's best hits!
Tickets on sale - get yours NOW!!
Call Box Office to book tickets: 01306 881717 or visit the website.
PLATINUM on stage at 8pm
"What a fab show!!!"
"Great show, music and choreography... Everyone up dancing and joining in!"
"I was in Dorking Halls tonight with my two children. You were completely amazing. Energetic, authentic, spell-binding. Brilliant performances from all - including wonderful, witty Swedish accent banter from Benny on the keyboard… the evening could not have been better."

THE WILDE THEATRE, BRACKNELL
PLATINUM will be performing two shows again at this venue in 2022!
Wednesday 7th December 2022
AND
Tuesday 13th December 2022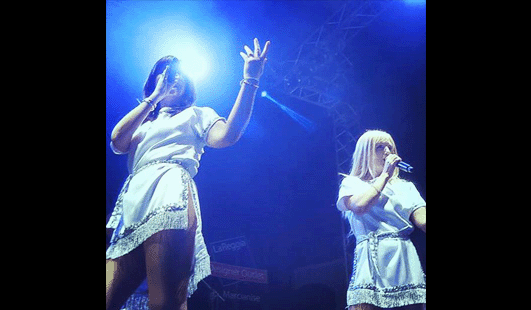 Tickets now on sale - go to these links:
"What a great show and the atmosphere was amazing... you guys are so talented and we both agreed it was the best evening musically and for just pure enjoyment we have had for a long time!"
"Absolutely brilliant show, superb!"
"Superb show yet again!"
"Thanks for an amazing night! We come every year and your show always makes us so happy!"
"Great show tonight, loved every minute of it as always!!!"
Call the Box Office on 01344 484123 or visit the Wilde Theatre/South Hill Park website.
PLATINUM will be on stage at 8pm on both nights.

THE TIVOLI, WIMBORNE
Thursday 8th December 2022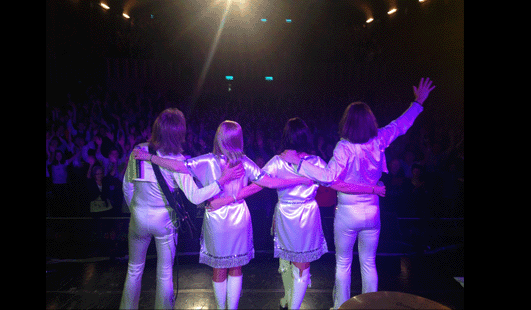 Following previous sell-out shows, tickets are sure to go fast and some have already been sold - so get yours now!!
Here is what people have said:
"Great show! Thanks for an amazing evening!"
"What a fabulous night last night. You rocked it. Music was amazing."

"Thanks, what a great show, up dancing all night."
"Fantastic night watching PLATINUM last night. Great fun."

"Thanks as ever for a fabulous evening! You made Wimborne rock!!! Thank you all for such wonderful entertainment. We are already looking forward to next year's show!"
Tickets now on sale - Available at the theatre Box Office direct or from their website: TivoliWimborne
Box Office Open:
Monday 10am to 4pm / Tuesday to Saturday 10am to 6.30pm
01202 885566
PLATINUM will be on stage at 7.30pm.

ASPATRIA MUSIC FESTIVAL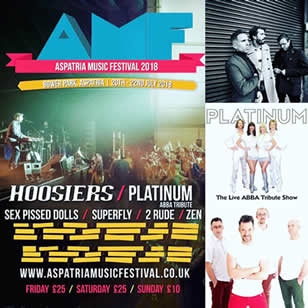 It's always an honour to be asked to headline a festival... and quite a responsibility, too!
PLATINUM would like to give a massive "thank you" to the fantastic crowd at Aspatria for their love, energy & enthusiasm and for the amazing welcome they showered upon the band.
Cumbria rocks!

ALEXANDRA PALACE SPRINGFEST
GERMAN BIER FESTIVAL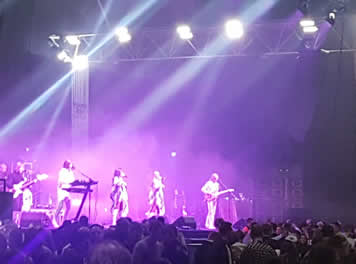 Alexandra Palace's Springfest German Bier Festival was a blast. With a wonderful Oompah Band, the fab band The Meltdown, and a Club de Fromage DJ - and plenty of beer flowing.... a great time was had by all.
PLATINUM thoroughly enjoyed headlining this great event.

RECENTLY IN BEIRUT!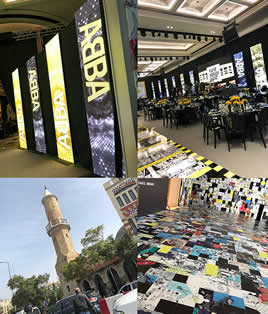 A wonderful trip to Lebanon for the Cartoon Awards in Beirut, with PLATINUM being their entertainment for the evening. The band has been working on getting to Lebanon for some time now, so was pleased to perform there! A great city and a fab response to PLATINUM's performance!
A wonderful few days, which they hope to be repeating soon.

PLATINUM'S THEATRE SHOWS IN INDIA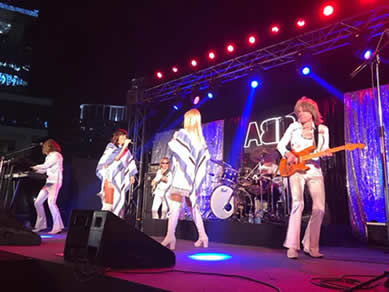 Another successful India tour - PLATINUM have performed many times in India, both at theatres and for corporate events. Here are just some of the wonderful comments they received:
"PLATINUM Rocked!! House Full! Standing Ovations! Dancing in the aisles…"
"What fun!!!...mind-blowing performance last night"
"You guys were wonderful - thanks for a wonderful memory. All my childhood memories were rekindled. You people have such flawless performances.... we enjoyed every moment of it."
"PLATINUM rockin' it at the Horizon Plaza! The atmosphere has suddenly gone from chilly to electric!"
"PLATINUM brings it down at the Horizon Plaza and the excitement is palpable."

#MammaMia !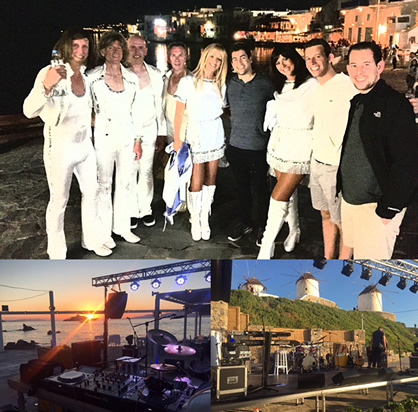 "Mamma Mia: Here We Go Again!" was released in July 2018 - the year PLATINUM celebrated its 21st!
This was PLATINUM's stage in Greece, the country where it all happened the 1st time. This shows the band in Mykonos (where Shirley Valentine was filmed).
#ABBA #PLATINUMabba #lovemusic #musical #abbatribute #dancingqueen #livemusic

PLATINUM AT "MUSIC IN THE PARK"
NONSUCH MANOR, CHEAM

A fantastic night again at Nonsuch Park with around 1300+ people turning out in the wonderful sunshine to have a fun evening of entertainment whilst helping to raise lots of money for St Raphael's Hospice in Cheam.
PLATINUM were supportedby Singer, Wayne Woodward, and Impressionist, Darren Altman and everyone had a great time:
"You were amazing, fantastic night, us dancing queens can't wait until next year x"
Thanks to everyone who came along to support us and this wonderful charity.

PLATINUM RETURN TO CORFE CASTLE for WAREHAM & PURBECK YOUNG FARMERS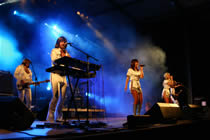 A wonderful festival in the glorious Dorset countryside yet again - what fun was had with the YFC and all to help raise money for their current charities.

PLATINUM's NEW YEAR'S EVE SHOW IN
SRI LANKA!

PLATINUM took their show to Sri Lanka! Along with Beatlemania and DJ Dane, PLATINUM had a fantastic time at the Cinnamon Grand in Colombo and have had some wonderful feedback from clients and customers alike.

PLATINUM JOINED STATUS QUO FOR A GREAT WEEKEND OF ENTERTAINMENT
PLATINUM headlined at The Glebe in Bowness-on-Windermere with an Elvis tribute act as support.
The next night saw Status Quo perform with support from Top Loader. A great weekend of fabulous entertainment.

PLATINUM's 2ND TOUR OF INDIA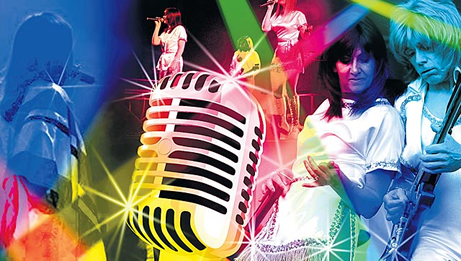 >
PLATINUM are proud to have taken their internationally acclaimed show to India for the first time in 2015.
Their second tour covered shows in Delhi; Phoenix Market City, Mumbai; and the Jamshed Bhabha Theatre, Mumbai for 7 shows.

SPAIN AGAIN FOR PLATINUM!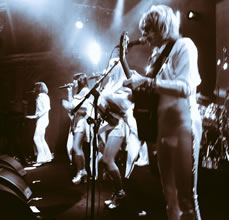 PLATINUM headlined at the Fiestas de San Lorenzo performing in the Plaza de Navarra, Huesca in Northern Spain.
They were so pleased to be making a return to Spain so quickly and thoroughly enjoyed this great fiesta!

PLATINUM AT MARVELLOUS FESTIVALS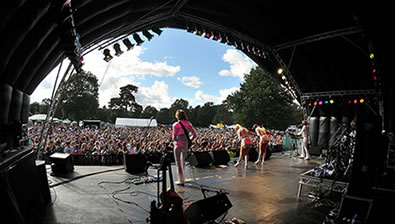 >
Top of the recently conducted Marvellous artists poll, along with Queen, was ABBA. So PLATINUM made a welcome return to this great festival. What a fabulous audience they were there again.

Y VIVA ESPAÑA - PLATINUM IN THE BASQUE REGION!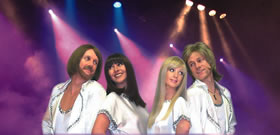 It's always an extra pleasure for PLATINUM to perform in new territories!!! This was the case for their theatre show in Spain in the Basque region at the Fronton Astelana in Eibar, near Bilbao, where they performed to a capacity crowd of around 1000 people. The audience didn't disappoint, raising the roof of the Fronton Hall from the minute they walked on stage and sustaining the incredible atmosphere right to the end.

MAMMA MIA! PLATINUM HIT ITALY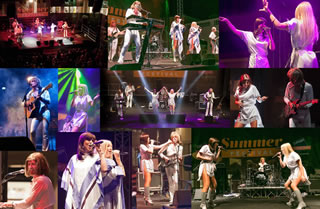 PLATINUM had five summer festival appearances in Italy: Naples, Venice, Florence, Rome and Milan. What a super time has been had by all at these great summer festivals. The Italian crowds were wonderful, including an emotion-stirring standing ovation from those still in their seats at the last one.

PLATINUM BACK FROM 3 MORE SHOWS IN ISRAEL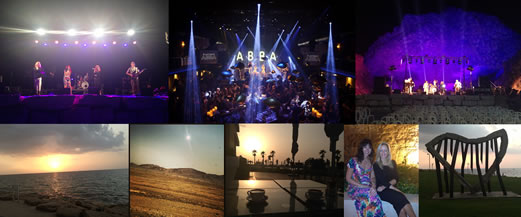 What a fantastic trip to Israel! PLATINUM travelled through the desert to Eilat, where they had two shows. The first was an outdoor event with the stage being carved from the rock face - a wonderful experience. This was followed by a show for the Masada Israeli Dance Festival - a great, fun audience. Their last show was a private party in Tel Aviv for 1000 people. PLATINUM can't wait to be back in Israel again soon. For all our Israeli fans, thanks for your support and any new events planned in your wonderful country will be posted here.

BY ROYAL APPOINTMENT!
After performing to a sell-out crowd at Nonsuch Park, PLATINUM immediately flew out the next day for a VERY royal appointment!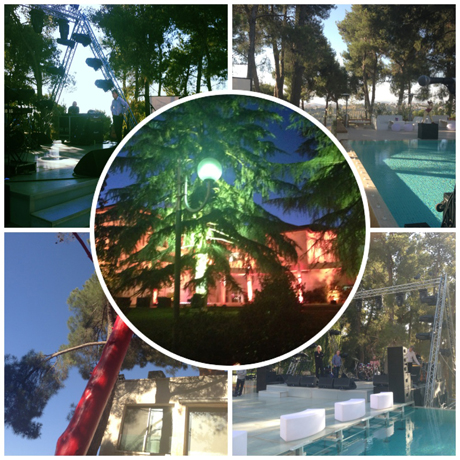 Having performed their live tribute to ABBA to audiences around the world for many years, PLATINUM have enjoyed many highpoints in their career. But they have just returned from one that may take some beating!

They were extremely honoured to be asked to perform at Her Royal Highness Princess Ghida Talal's 50th birthday party in Amman, Jordan. Set in a spectacular outdoor setting adjacent to the royal palace, the distinguished audience comprised of King Abdullah II and Queen Rania of Jordan, along with 15 princes and princesses and the cream of Jordanian society. PLATINUM are proud to report that the dance floor remained packed throughout the evening!

The band would like to extend a heartfelt "thank you" for the exceptional hospitality they were shown and the huge honour they felt when the date of the party was moved to accommodate their busy schedule and enable them to perform.

© PLATINUM - The Live ABBA Tribute Show 2022
HOME | NEWS | MEDIA | GALLERY | TESTIMONIALS | CLIENT LIST | CONTACT | LINKS