1) They perform ABSOLUTELY LIVE!
PLATINUM are an award-winning, internationally acclaimed, UK based, 6-piece ABBA tribute band that perform their spectacular homage to ABBA TOTALLY LIVE around the world... without resorting to the use of backing tracks. And that's what makes the difference!
It allows their musicians the freedom to interact with audiences in a way only possible with a truly live performance... just like the real ABBA! After all... wouldn't anything else just be glorified karaoke?
That is why they are constantly in demand from agents, party planners and festival organisers worldwide, regularly performing their breathtaking ABBA tribute show for crowds of up to 30,000 people.
But they're just as happy playing at more intimate gatherings! Whether it be a private party, wedding, theatre, casino, awards ceremony, charity fundraiser, product launch or corporate event... as long as there's an audience, PLATINUM will ensure everybody is up and dancing!
"Better than the original" London Evening Standard

"I have been a great ABBA fan over the years. Seen "Mamma Mia" 8 times in London, New York & Las Vegas. Also seen many ABBA clones in different parts of the World and they have been quite good. However, I may say that this Group was the best we have seen."
Audience member at one of PLATINUM's sold-out theatre shows in Mumbai, writing to top Indian promoter Raell Padamsee
2) They look amazing!
Not content with their tribute to ABBA just sounding like the real thing, PLATINUM knew they must look like them too! Right from the start, they employed the services of a top west-end theatre costume designer to help ensure as authentic an ABBA appearance as possible.
Their handmade costumes have been meticulously crafted to provide a visual experience that perfectly complements the ABBA sound.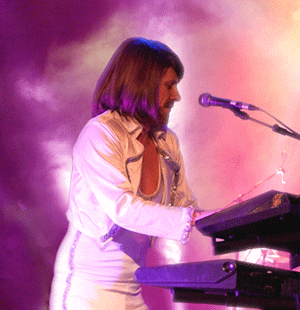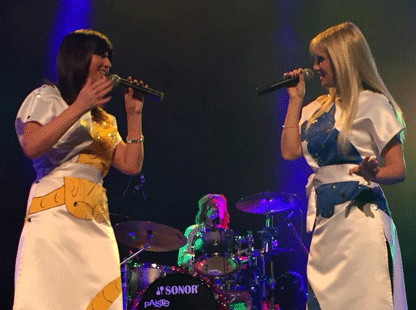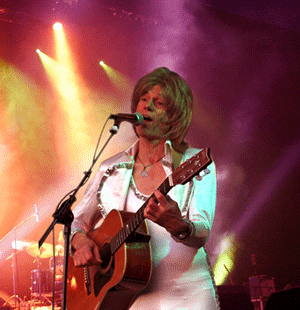 "A spectacular, brilliantly choreographed, polished musical production of ABBA's greatest hits. There are many attempts to copy ABBA. Without a doubt this magical interpretation is the most authentic ABBA tribute you will ever see or hear!"
Russell Parrott - Racecourse Manager, Leicester Racecourse
3) They bring over 25 years' experience to every performance
PLATINUM formed in 1997 - under their original name of Platinum ABBA - with the sole aim of becoming the best ABBA tribute band in the World.
Individually, its musicians have toured and recorded with some of the biggest names in show business. Collectively, they've succeeded in making an international name for themselves, selling out theatres and concert halls around the globe. With thousands of shows under their belt and TV appearances around the world, their tribute to ABBA has been enjoyed by millions of people.
PLATINUM have performed for Kings & Queens, Princes & Princesses, Presidents & Prime Ministers, top celebrities and many of the world's biggest companies... and their client list continues to grow.
That's because they know what they're doing! If you're looking to book the best possible ABBA tribute act for your event, you can have confidence in PLATINUM.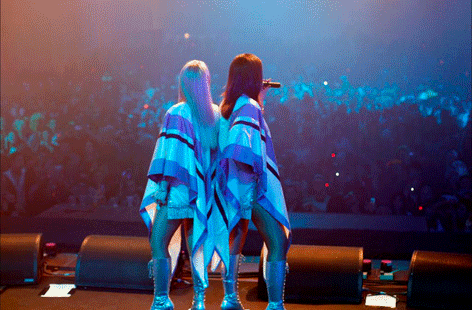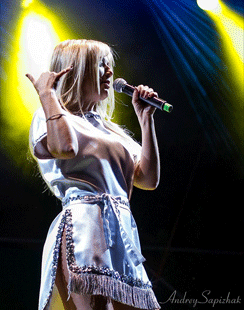 "The Festival favourite!!.... World class live concert …. you would be mad to miss them!!"
Ballymena Arts Festival
4) They believe in having fun!
Whilst the band take the music of ABBA extremely seriously, they understand the whole idea of an ABBA tribute is to recreate the fun and spectacle that characterised ABBA's iconic image. With tongue-in-cheek humour interspersed throughout their show - delivered in genuine mock-Swedish accents - and cleverly-pastiched choreography, they'll even put a smile on the face of those in the audience who hadn't realised they were ABBA fans!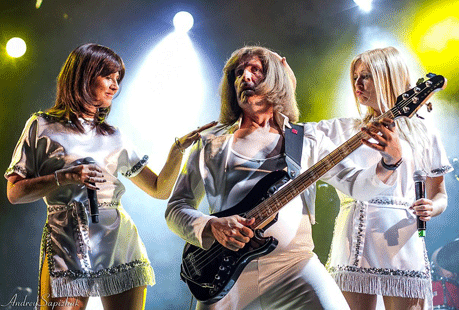 "Ambassadors, fellow diplomats and expatriates alike are all in agreement – PLATINUM was just what the doctor ordered for the British Embassy Ball – A truly fantastic night was had by all! When can you come back?"
Jayne Senior MBE, First Secretary, British Embassy - Beijing
5) Most importantly of all... they care!
PLATINUM's longevity at the top and impressively large client list is no accident. It's the result of believing that every show should be their best one. That's why people have been coming back for more, time after time, for over 21 years. As far as PLATINUM are concerned, their much-cherished and hard-earned reputation is only as good as their last show. That's your guarantee they'll never let you down!
"The whole show, from the set up through to the actual performance pays such attention to detail that one feels that this group are presenting the show especially for you and that your venue is the only one that they really want to play. That is the sign of true professionals."
Charlie North Lewis - General Manager, Tivoli Theatre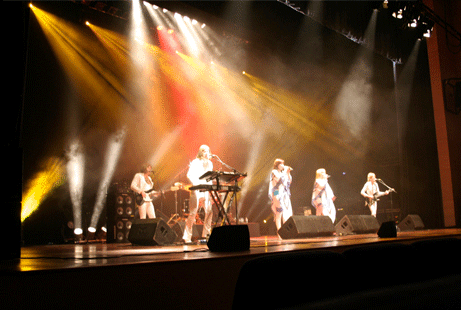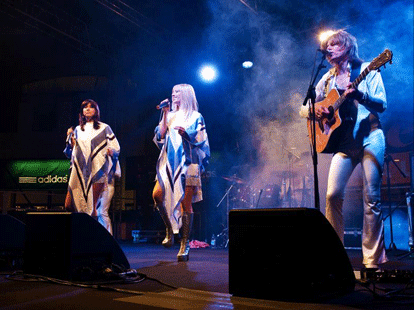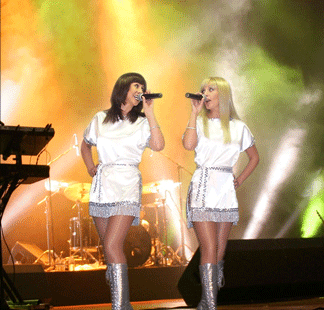 "It was as close to Eurovision Brighton 1974 as we could ever get. Excellent!"
Bromley Civic Halls
The Technical Bit... but don't worry... we make it extremely easy!
PLATINUM provide productions carefully tailored to every client's individual needs, be it venue size or budget. Whether a 4K or 40K PA system, simple lights or state-of-the-art intelligent lighting rig, their experienced crew ensure the best sound and vision for each particular event. They can even provide the stage, if necessary. From small marquees to massive concert halls & large outdoor events... they've done it all. Nothing is too big or small.
Then again... if you've got that side covered, they'll happily leave it to you! Full technical specifications will be provided on request.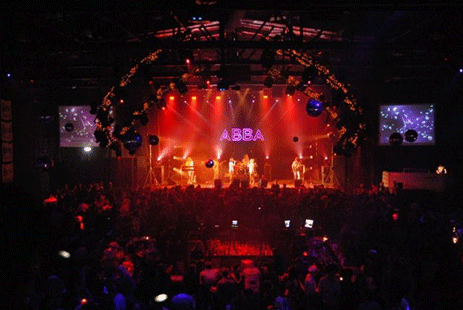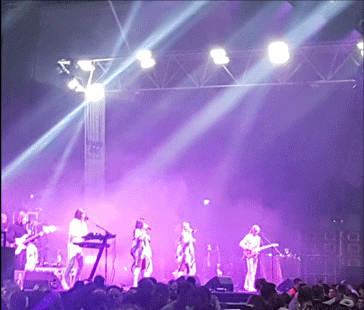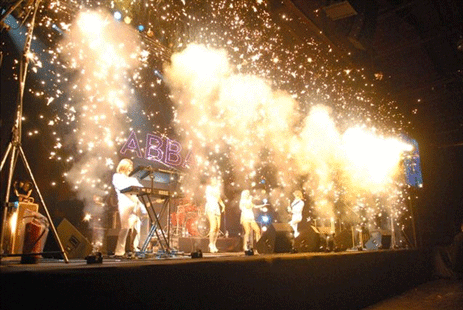 "Pampered Chef Directors salute you guys - you gave us the best Conference event ever! Amazing!"
Total Peace of Mind
If the above - and their glowing Testimonials and Client List - has convinced you that PLATINUM would be the IDEAL entertainment for your event, you can book with confidence in the knowledge they've also taken care of all those hidden extras that sometimes get overlooked. Every piece of electrical equipment is fully PAT tested; they have stringent health & safety procedures in place for both band & crew (Risk Assessment for your event provided on booking, should you require it); PLUS the band come complete with up to £10,000,000 worth of Public Liability Insurance for events within the UK at no extra cost. All you have to do is sit back and enjoy the show... though we think you'll be up and dancing!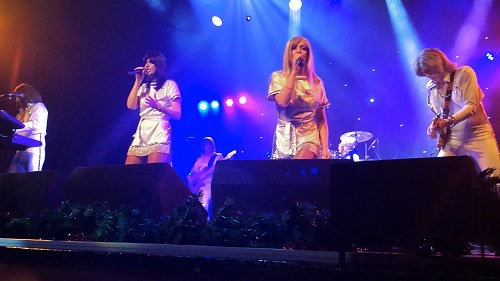 "You certainly set the place on fire last night, everybody but just everybody were on their feet dancing. The whole town is talking about the great atmosphere, and how much they loved your act, so from me personally, Padstow Rotary, and Padstow, many many thanks. You were also so easy to work with, which was a blessing for me, and the committee. Hope to see you all again sometime."
Peter Tamblin – Padstow Rotary Club
and finally... the legal bit... as we sometimes get asked!
In 2010, lawyers acting on behalf of Universal Music instructed ABBA tribute bands to remove the word "ABBA" from their name, as it constituted trademark infringement. PLATINUM (then PLATINUM ABBA) immediately complied and, following communication with Universal Music's lawyers, have been given permission to use "ABBA" within their tag line in the format as seen in their logo. So if you're thinking of booking an ABBA tribute act for your event and are rightly concerned by such issues, you're totally safe booking PLATINUM!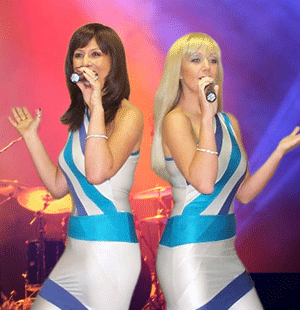 What more can we say?
Please enjoy the rest of the site. We hope we get to hear from you. If not, thank you for stopping by.
If you have any questions you would like answered, please feel free to contact our team. They'll be more than happy to help you with your enquiries.
ABBA tribute bands help keep the music of ABBA alive - but PLATINUM keep it ABSOLUTELY LIVE!
Why "Take a Chance" on anyone else?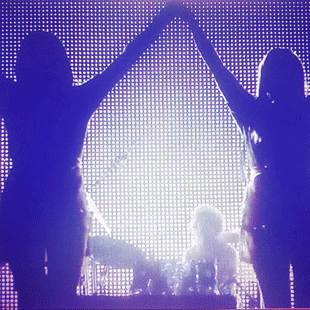 Follow PLATINUM
Exclusive Worldwide Management
© PLATINUM - The Live ABBA Tribute Show 2023
HOME | NEWS | MEDIA | GALLERY | TESTIMONIALS | CLIENT LIST | CONTACT | LINKS